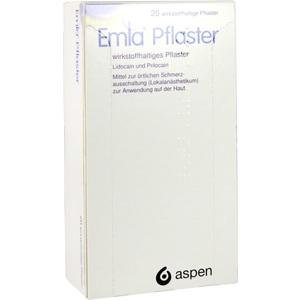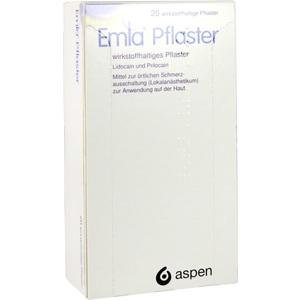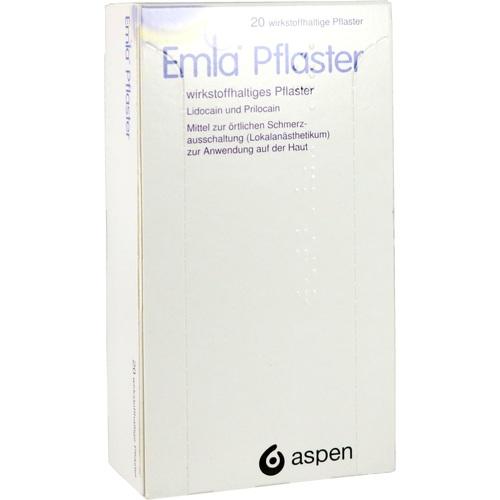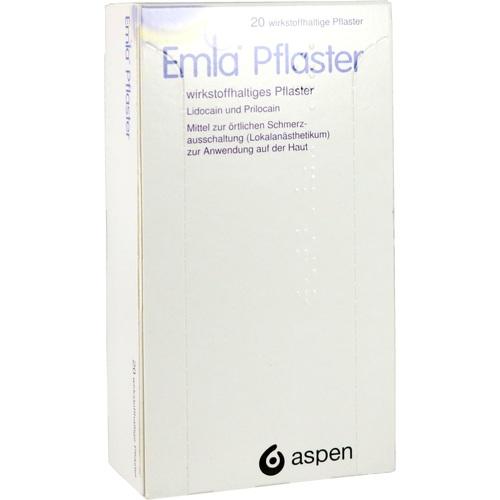 EMLA Pflaster 20 Ps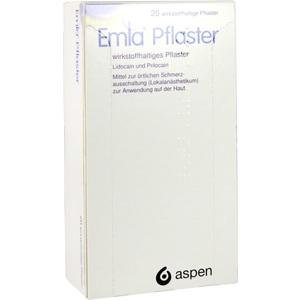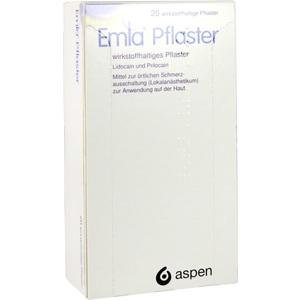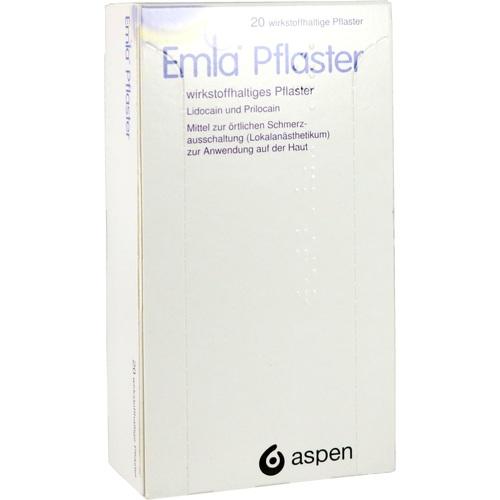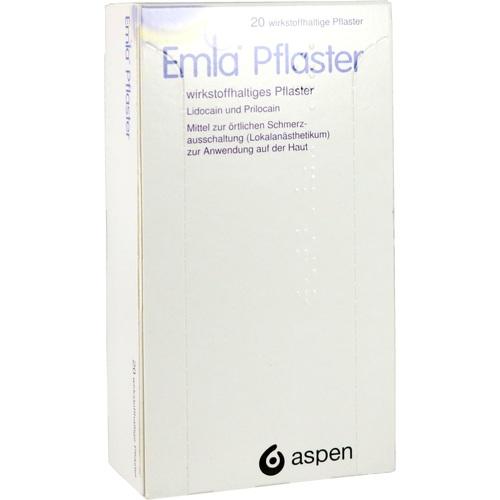 | | |
| --- | --- |
| Product number | 00038505 |
| Base price | €3.12 / 1 Ps 3 |
| Delivery time: | Delivery time ca 1-3 working days |
Price: €62.45 3
instead of €69.39 List price | You save €6.94 (10%)
For drugs: the risks and side effects read the package insert and ask your doctor or pharmacist.
For veterinary medicinal products: risks and side effects read the package insert and consult your veterinarian or pharmacist.
Details
| | |
| --- | --- |
| PZN | 00038505 |
| provider | Aspen Germany GmbH |
| Pack size | 20 Ps |
| Pack standard | N3 |
| Pharmaceutical | Pflaster |
| Product name | Emla |
| Prescription | No |
| items | Yes |
number
Art der Anwendung?
Kleben Sie das wirkstoffhaltige Pflaster auf die betroffene(n) Hautstelle(n). Die betroffene(n) Hautstelle(n) sollten sauber, trocken und unbehaart sein. Drücken Sie die Pflasterränder kräftig an und sparen Sie die Pflastermitte dabei aus. Das Pflaster sollte mindestens 1 Stunde vor dem geplanten Eingriff auf die Haut aufgebracht werden. Sie dürfen das Pflaster nicht zerschneiden oder anderweitig zerteilen. Waschen Sie nach der Anwendung gründlich die Hände. Vermeiden Sie den versehentlichen Kontakt mit Augen, geschädigter Haut und offenen Hautstellen.

Dauer der Anwendung?
Die Anwendungsdauer bzw. Einwirkdauer des Arzneimittels richtet sich nach der Art des Eingriffs. Sie sollte deshalb in Absprache mit Ihrem Arzt festgelegt werden.

Überdosierung?
Bei einer Überdosierung kann es unter anderem zu einem verminderten Sauerstofftransport roter Blutkörperchen (Methämoglobinämie), Störungen des Nervensystems wie Krämpfe und Bewusstseinsstörungen und zu Herz-Kreislauf-Beschwerden kommen. Setzen Sie sich bei dem Verdacht auf eine Überdosierung umgehend mit einem Arzt in Verbindung.

Generell gilt: Achten Sie vor allem bei Säuglingen, Kleinkindern und älteren Menschen auf eine gewissenhafte Dosierung. Im Zweifelsfalle fragen Sie Ihren Arzt oder Apotheker nach etwaigen Auswirkungen oder Vorsichtsmaßnahmen.

Eine vom Arzt verordnete Dosierung kann von den Angaben der Packungsbeilage abweichen. Da der Arzt sie individuell abstimmt, sollten Sie das Arzneimittel daher nach seinen Anweisungen anwenden.
Dosage
Da die Dosierung des Arzneimittels von verschiedenen Faktoren abhängt, sollte sie von Ihrem Arzt individuell auf Sie abgestimmt werden.
Lassen Sie sich dazu von Ihrem Arzt oder Apotheker beraten.
application notes
- Oberflächliche Betäubung, insbesondere im Zusammenhang mit:
- Oberflächliche Betäubung vor Nadeleinstichen
- Oberflächliche Betäubung der Haut bei kleineren Operationen
Function
Wie wirken die Inhaltsstoffe des Arzneimittels?

Das Arzneimittel besteht aus einer Kombination der zwei Wirkstoffe Lidocain und Prilocain, die zur Gruppe der Lokalanästhetika gehören. Die Wirkstoffe unterdrücken die Reizweiterleitung der Nerven und machen sie dadurch unempfindlich gegenüber Schmerzen und Juckreiz und führen zu einer örtlich begrenzten Betäubung.
Composition
Based on 10 cm2 Pflaster = 1 Pflaster
25 mg Lidocain
25 mg Prilocain
+ Macrogol glycerolhydroxystearat
+ Carbomer 974 P
+ Natriumhydroxid zur pH-Wert-Einstellung
+ Wasser, gereinigtes
+ Cellulose
+ Polyethylen
+ Poly(acrylamid-co-isooctylacrylat) (x:y)
+ Trennfolie, polyethylenbeschichtet, siliconisiert
Contraindications
Was spricht gegen eine Anwendung?

Immer:
- Überempfindlichkeit gegen die Inhaltsstoffe

Unter Umständen - sprechen Sie hierzu mit Ihrem Arzt oder Apotheker:
- Erbliche Enzymstörung (Glucose-6-Phosphat-Dehydrogenase-Mangel)
- Verminderter Sauerstofftransport roter Blutkörperchen (Methämoglobinämie)
- Neurodermitis

Was ist mit Schwangerschaft und Stillzeit?
- Schwangerschaft: Wenden Sie sich an Ihren Arzt. Es spielen verschiedene Überlegungen eine Rolle, ob und wie das Arzneimittel in der Schwangerschaft angewendet werden kann.
- Stillzeit: Es gibt nach derzeitigen Erkenntnissen keine Hinweise darauf, dass das Arzneimittel während der Stillzeit nicht angewendet werden darf.

Ist Ihnen das Arzneimittel trotz einer Gegenanzeige verordnet worden, sprechen Sie mit Ihrem Arzt oder Apotheker. Der therapeutische Nutzen kann höher sein, als das Risiko, das die Anwendung bei einer Gegenanzeige in sich birgt.
Side effects
Welche unerwünschten Wirkungen können auftreten?

- Hautrötung an der Anwendungsstelle
- Wassereinlagerung an der Anwendungsstelle
- Helle Hautfärbung an der Anwendungsstelle
- Schmerzen an der Anwendungsstelle
- Juckreiz an der Anwendungsstelle
- Wärmegefühl an der Anwendungsstelle
- Verminderter Sauerstofftransport roter Blutkörperchen (Methämoglobinämie)
- Überempfindlichkeit
- Reizung der Hornhaut des Auges (Kornea)
- Klein- bis großfleckige Hautschädigung (Hautläsion), insbesondere nach längerer Behandlung von Kindern mit Neurodermitis oder Dellwarzen

Bemerken Sie eine Befindlichkeitsstörung oder Veränderung während der Behandlung, wenden Sie sich an Ihren Arzt oder Apotheker.

Für die Information an dieser Stelle werden vor allem Nebenwirkungen berücksichtigt, die bei mindestens einem von 1.000 behandelten Patienten auftreten.
Notices
Was sollten Sie beachten?
- Vorsicht bei Allergie gegen Mittel zur örtlichen Betäubung (Lokalanästhetika wie Articain, Bupivacain, Lidocain, Mepivacain, Prilocain, Ropivacain)!
- Lösungsvermittler (z.B. Poly(oxyethylen)-Rizinusöle) können Hautreizungen hervorrufen.
- Es kann Arzneimittel geben, mit denen Wechselwirkungen auftreten. Sie sollten deswegen generell vor der Behandlung mit einem neuen Arzneimittel jedes andere, das Sie bereits anwenden, dem Arzt oder Apotheker angeben. Das gilt auch für Arzneimittel, die Sie selbst kaufen, nur gelegentlich anwenden oder deren Anwendung schon einige Zeit zurückliegt.

Accessories

Customers also bought...